After 23 years, the Ireland has changed its football kit sponsor from Umbro to New Balance.
Umbro took over the shirts and stirred the hearts of Ireland players from 1994, after the team's successful last-16 placing in the USA World Cup. Through the years Umbro experimented with the kit, adding sometimes controversial patterns and various collar designs. The fortunes of Ireland's team have fluctuated as much as the shirts themselves over the years, but one thing's for certain: the kit has proved just as popular as the lads themselves. Let's look back at past Irish glories won while wearing Umbro.
Robbie Keane's Eastern Promise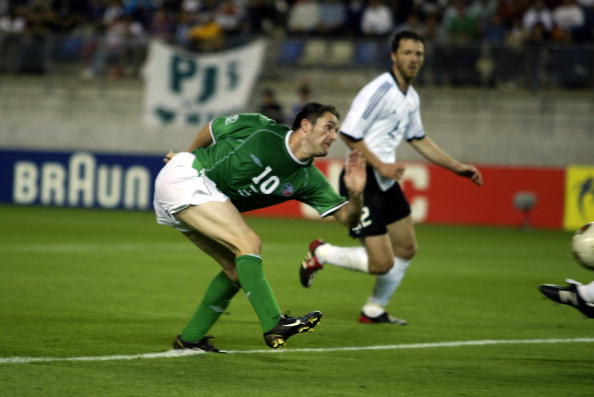 While Roy Keane walked his dog, the Ireland team headed out east to South Korea and Japan for the 2002 World Cup. Wearing an all-green Umbro Ireland Football Jersey – with white-stripe detailing – the team drew their first game against Cameroon. Next up, they secured a nail-biting draw against eventual runners-up Germany when Robbie Keane hammered an injury-time goal past King Khan.
A comfortable 3-0 win over Saudi Arabia took the boys to the knockout phase and a game against Spain. Keane did it again – scoring a last-minute penalty to make it 1-1 and take the tie to penalties. Mendieta slotted home to seal Ireland's fate but four goals from Robbie gave fans a new Keane to sing about on the flight home.
Fans win in Poland and Ukraine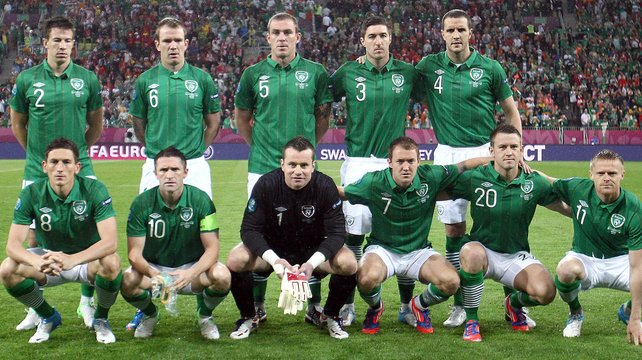 In a tough group with Croatia, Spain and Italy, Ireland didn't win a game in Euro 2012. But fans – sporting the Ireland shirt with two-tone green vertical stripes – cheered on their team anyway. Even the Spain game when they were four-nil down. For our loyalty, UEFA gave fans a special award. True football spirit was the winner.
The long way to France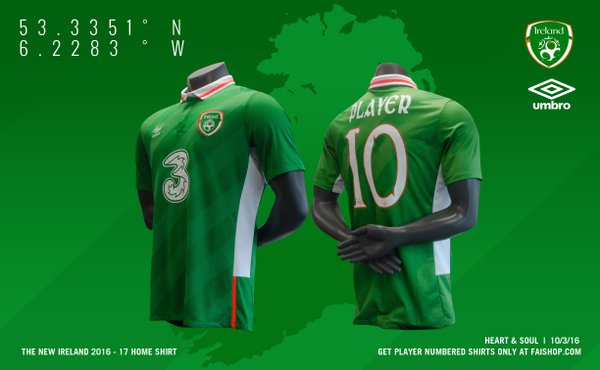 Fans had more to cheer about four years later. Shane Long's epic qualifying goal against Germany took Ireland to the playoffs and a win over Bosnia and Herzegovina saw the lads qualify for Euro 2016.
In Umbro's green jersey with white collar, Wes Hoolahan opened Ireland's Euros with a peach of a half-volley finish against Sweden. Other highlights included a late header from Robbie Brady to beat Italy one-nil and take us to the next stage. Only home team France could stop them getting to the quarters.
A new era
On 2 September 2017, Martin O'Neill's side will step out in the New Balance Ireland Shirt for the game against Georgia. With a classic design for a new football era, it's inspired by the 1924 Ireland side who beat Bulgaria in the Olympic Games.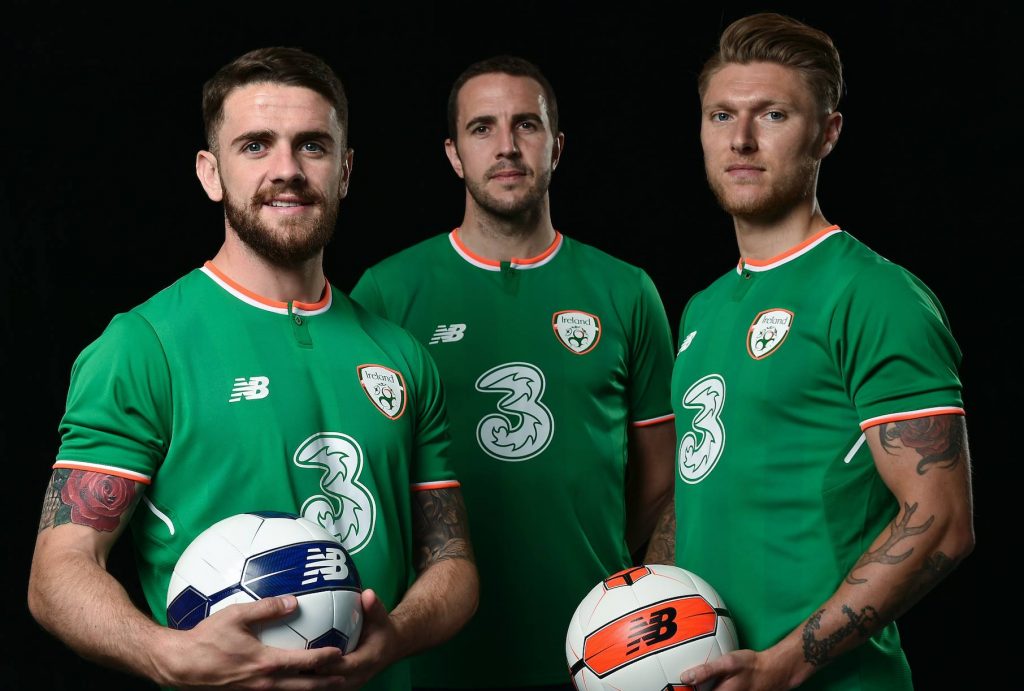 The green home jersey has two-tone vertical stripes with white and orange detailing at the collar and cuff. There's a white stripe under the arms – and of course, NB where Umbro used to be. For the finishing touch, New Balance printed Éire just below the collar; #COYBIG on the inside. White shorts and green socks complete the new Ireland Football Kit. Get your hands on Ireland's New Balance kit today!