From May 4-6, six of Europe's most exciting youth soccer teams will take centre stage in FAI Headquarters, Abbottstown.
Celebrating its 75th anniversary this year, the Dublin and District Schoolboys League (DDSL) is the biggest schoolboy league in Europe and has brought to Dublin a stellar line-up of the world's biggest clubs, including Liverpool, Manchester United, Chelsea, Bayern Munich and Ajax to compete against a DDSL league team over three days of Under-13s action.
The team here at Life Style Sports are looking forward to partnering with the DDSL on such an exciting and fun event, especially given that it recognises the 'young sparks' who will help to shape the future of football.
So, to make the weekend as memorable as possible, in addition to a Life Style Sports competition kicking booth that onlookers can take part in and win lots of prizes, we'll also be kitting the entire team out in adidas Copa Gloro boots, exclusive to Life Style Sports.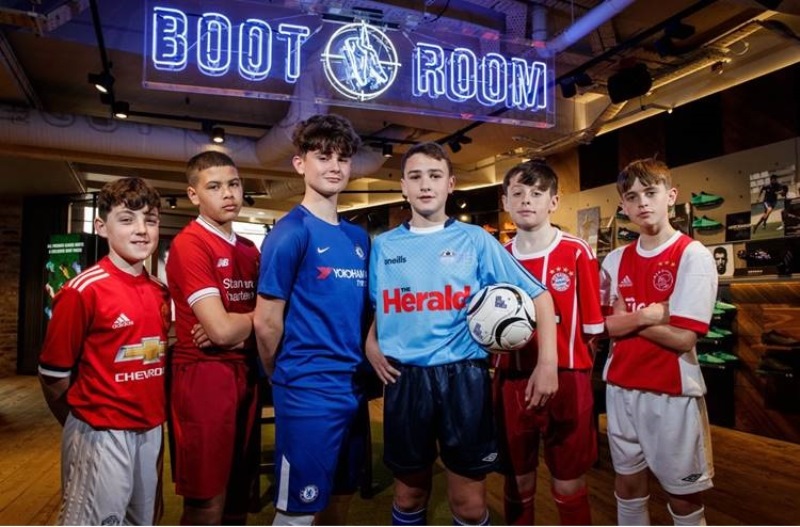 Follow the action on Instagram – @LifeStyleSportsFootball
Tickets, priced €5-€15, are available through the league's website www.ddsl.ie, or on the day.
Schedule:
Friday, May 4
Round 1
DDSL v Liverpool – 7pm
Bayern Munich v Manchester United – 7.25pm
Chelsea v Ajax – 8pm
Saturday, May 5 (morning)
Round 2
Ajax v DDSL – 10am
Liverpool v Bayern Munich – 10am
Manchester Utd v Chelsea – 10am
Round 3
Bayern Munich v Ajax – 11.45am
DDSL v Chelsea – 11.45am
Liverpool FC v Manchester United – 11.45am
Saturday, May 5 (afternoon)
Round 4
Chelsea v Bayern Munich – 4pm
DDSL v Manchester United – 4pm
Ajax v Liverpool – 4pm
Round 5
Bayern Munich v DDSL – 5.45pm
Chelsea v Liverpool – 5.45pm
Manchester United v Ajax – 5.45pm
Sunday, May 6
Round 6
Sixth v Fifth – 10am
Fourth v Third – 10.25am
Second v First – 12pm