adidas BOOST is one of the most exciting new footwear technologies in recent memory. But what is Boost? Let's take a closer look at the innovation that has been part of every major adidas sneaker drop in the last few years.
If you like adidas NMD's, Iniki or even Yeezys, then you're sure to love adidas BOOST. This new technology has changed the game, transforming running and fitness sneakers into a serious streetwear trainer.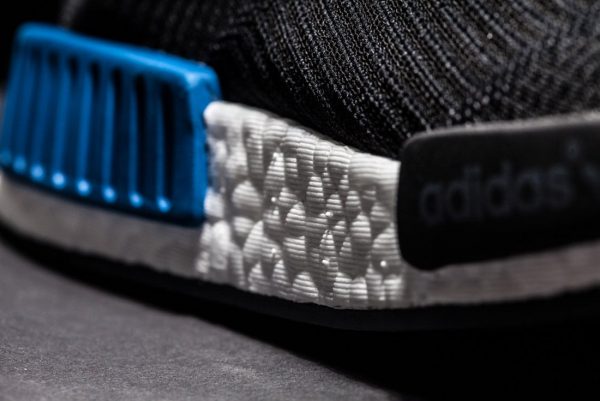 Without getting too technical, BOOST is made from thousands of specially formulated foam pellets called "energy capsules." In the design process, adidas joined forces with BASF, a major global chemical company. Their starting point was a solid granular material known as TPU, which was then blown up and reshaped into miniature energy capsules, before being joined together to make a unique new midsole that looks like styrofoam. This BOOST midsole delivers a super high energy return for runners, and maximum comfort in streetwear.
"The way that BOOST gives energy back, it deforms. The amount of deformation and the way it returns and deforms in different angles, is uniquely similar to the way your foot works" – adidas Global Creative Director of Performance James Carnes
Check out this little video demo to see how responsive BOOST is:
https://www.youtube.com/watch?v=0KHqCpC2ODA&t=26s
BOOST was a game-changer for adidas running, but the real turning point came when they unveiled the Pure Boost style, which was the first to feature a full-length BOOST midsole. This saw BOOST trainers being adopted by both runners and sneakerheads – and in a big way – culminating in the launch of Yeezy Boost last year.
"Kanye West got to try the Pure Boost and his response was 'THIS IS AMAZING.'"
—Nic Galway, Vice President of Global Design at adidas Originals
Want to see how BOOST works with your own eyes? Check out this video:
https://www.youtube.com/watch?v=euo40Lr9OmM
adidas are the only company in the world who produce BOOST, and there are limits to how much they can make at one time. So if you've ever missed out on a BOOST trainer drop, it's probably due to a global BOOST shortage. There's just not enough of it on the planet!
Get yourself a pair of adidas trainers with BOOST technology in full adidas collection.