Roberto Firmino has earned many of the plaudits at Liverpool this season but his fellow Brazilian trickster is bringing smiles to the faces of the Anfield faithful week in, week out.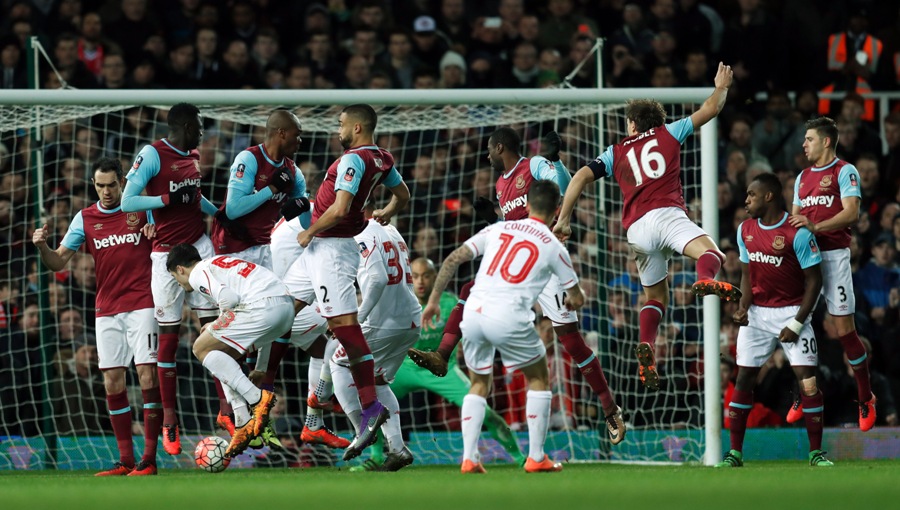 When Philippe Coutinho returned from a recent hamstring injury, it was never in doubt that we was going to improve Liverpool's fortunes given his importance to the club.  However, what the Liverpool supporter weren't expecting was a cheeky free-kick under the wall against an ever-improving West Ham. As Klopp's men climb up the table, he is sure to play a crucial role in their run-in. Here's the low-down on what you should know about the 23-year-old playmaker:
Samba style
Coutinho's immense skill comes from a futsal background, a form of football with a smaller and heavier ball, a smaller pitch and only five or six players per team. Coutinho played futsal until his grandmother encouraged him to join the local boys' team.
Famous friendship
The Liverpool ace is great friends with none other than Neymar Jr, with the duo having played with one another for Brazil since under-14 level.
Patience is a virtue
In 2008, Italian giants Inter Milan signed Coutinho when he was 16 from Vasco de Gama for around €4 million. The Brazilian would have to wait two years until he was 18 to play for Inter due to Italian eligibility rules, and he was loaned back to Vasco.
Big impressions
During a trial at Inter Milan, Coutinho nut-megged world cup winner Marco Materazzi, with Materazzi reportedly threatening to put him in hospital if he did it again. Then Inter manager – and former Kop favourite – Rafa Benitez immediately installed him into the first team squad when he arrived in 2010, making his debut as a substitute in the UEFA Super Cup final in August of that year.
A fan in Poch
Coutinho played under current Tottenham manager Mauricio Pochettino at Espanyol during a loan spell from Inter Milan in 2012, with the Argentinean saying he has 'a special magic in his feet'.
International see-saw
Coutinho somehow missed out on selection for Brazil's ill-fated 2014 home World Cup campaign but current coach Dunga picked him as a regular following his appointment in July 2014. Nonetheless, in October 2015 Coutinho was left out of the squad in favour of a 33-year-old Kaka, now plying his trade with Orlando City in the MLS.
Stand-out signing
Coutinho joined Liverpool for £8.5 million in January 2013. Along with the only other signing of that window, Daniel Sturridge, he is seen one of Brendan Rodgers's only successful purchases, with many of his spending much criticised by fans and pundits alike.
Stepping into the breach
The Brazilian playmaker matched his performance of five goals and seven assists last season from the 2013/2014 season, without the help of Luis Suarez and for the most part Daniel Sturridge. He already has five goals and three assists this season despite many games out through injury.
Letter from home
Then Liverpool manager Brendan Rodgers read a letter from Coutinho's mother to the Liverpool squad in the changing rooms at Anfield before their huge table-topping clash against Manchester City in April 2014. Liverpool went on to win the game 3-2 with Coutinho himself scoring the winner.
Personal accolades
Coutinho saw his performances in the 2014/2015 season widely recognised. He was awarded Liverpool's Player of the Year and named in the PFA Barclays Premier League Team of the Year, as well as taking third place for the Young Player of the Year.
LIFE STYLE SPORTS HAS THE WIDEST CHOICE OF ENGLISH PREMIER LEAGUE KIT IN IRELAND, AVAILABLE TO PURCHASE IN-STORE AND ONLINE. CLICK HERE TO SHOP THE RANGE NOW.