Tottenham are still in contention for three different titles this season and one of their star performers in recent weeks has been Belgian playmaker Nacer Chadli. Here's ten things to know about Tottenham's wildcard winger.
Too good to name
When Chadli was first taken on as a trainee by AGOVV Apeldoorn, he allegedly went under the alias "Kaliffe" because technical manager Ted van Leeuwen was afraid other clubs would show their interest.
Familiar face
Chadli scored twice against Tottenham for old club FC Twente in the 2010/11 Champions League, netting the Dutch side's only goal of the game in a 4-1 loss at White Hart Lane, before scoring a 25-yard free-kick in the 3-3 return in the Netherlands.
International debut
Chadli first played international football for Morocco, being named man of the match on his debut against Northern Ireland at Windsor Park on 17 October 2010.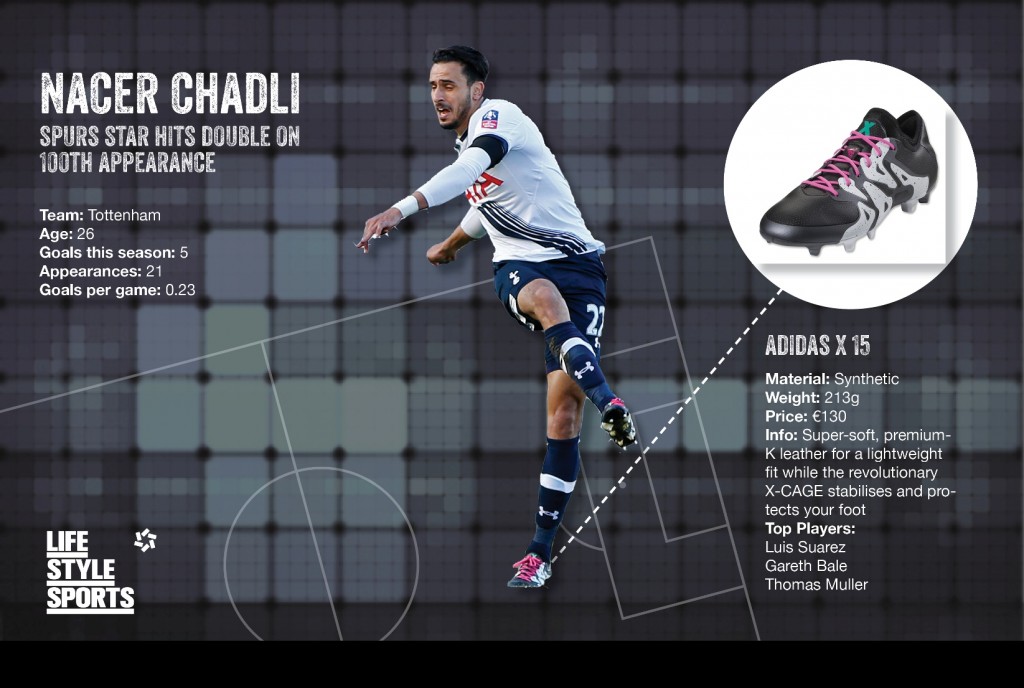 Success with Twente
Chadli enjoyed three impressive seasons at FC Twente, racking up 123 appearances and scoring 40 goals. His first-ever league goal was a match-winner against title rivals PSV in a 1-0 win in October 2010.
Second international debut
But Chadli decided to represent the country of his birth and was allowed as he hadn't played a competitive match for Morocco and made his Belgian debut in February 2011 in a 1-1 draw with Finland.
Coming to England
Chadli became one of the signings of Andre Villas-Boas' short-lived tenure for a £7 million fee in July 2013. AVB revealed after his sacking in December 2013 that Chadli, along with club record-signing Erik Lamela, were bought against his will.
Welcome to the derby
The Belgian international had a terrible introduction to the north London derby, losing twice in the league and again in the FA Cup in his first 2013/14 season at White Hart Lane. But the winger endeared himself to Spurs fans with a goal at the Emirates in a 1-1 draw the following season.
World Cup
Chadli started Belgium's first World Cup game in 14 years, their opening match against Algeria, but made way just after for Dries Mertens just after half-time as his side tried to overturn a one-goal deficit. Mertens scored the winner ten minutes from time and Chadli only managed another 54 minutes in three substitute appearances.
New approach brings rewards
Before the 2014/15 season, Chadli adopted a new diet on the recommendation of Belgium teammate Vincent Kompany. Eating more fruit and vegetables, and cutting dairy out, saw him feature 45 times in all competitions and notch 11 Premier League goals, just one behind Wayne Rooney and David Silva.
On target for his century
Chadli recently brought up his 100th game at Spurs, scoring twice in a 4-1 fourth-round win over Colchester United for his 22nd and 23rd goals as a Tottenham player.
Good company
Nacer Chadli wears Adidas x15s, the football boot of choice for Luis Suarez, Gareth Bale and Thomas Müller.
LIFE STYLE SPORTS HAS THE WIDEST CHOICE OF ENGLISH PREMIER LEAGUE KIT AVAILABLE IN IRELAND. THE NEW RANGE OF PREMIER LEAGUE SHIRTS FOR THE 2015/16 SEASON IS NOW AVAILABLE TO PURCHASE IN-STORE AND ONLINE. CLICK HERE TO SHOP THE RANGE NOW.