TECHNOLOGY TO RUN: on-the-go essentials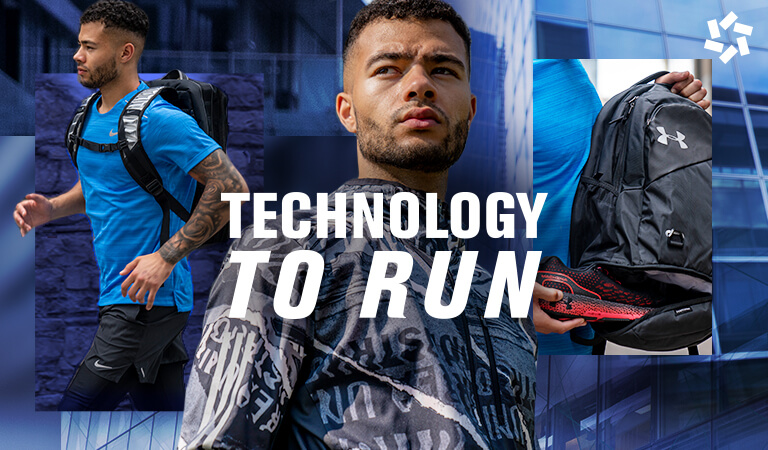 Tired of pre-office traffic or squishing on the bus bright and early? Trust us, there's a long list of reasons why running to work could be right up your street. From boosting your mood and productivity in the boardroom to easing stress and above all, improving your nightly ZZZzzzs.  In other words, there are some pretty sweet perks that can come from a good run!
Ready to reduce your carbon footprint? First, you'll need a few fail safe essentials that'll make the new A-to-B easy. Here's our Technology to Run to work rundown…
THE RUNDOWN
GOT YOUR BACK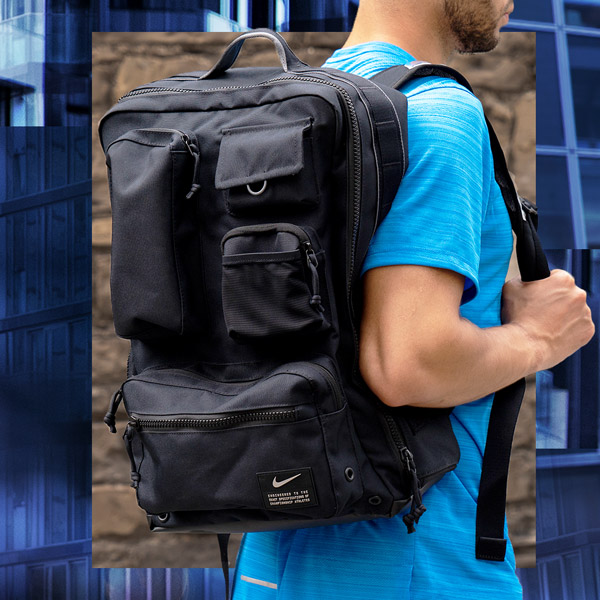 A trusty backpack might not be at the top of your kit list, but wow, is it important. You could be running to and from the office, so you'll need a bag that won't hinder your performance while providing enough capacity for those everyday essentials. Thankfully in our Technology to run series, there are plenty of innovative rucksacks that are perfect for running, designed with clever features to complement your routine – Asics' Slim 5l backpack is a streamlined style with a snug, on-the-body finish that's 100% waterproof… ideal if there are unexpected showers while on the go. Super breathable thanks to its breezy air-mesh back, this minimal design means there won't be any flapping straps or scratching to distract you while you run.
Searching for something with a touch more space? Similarly, the brand's larger, 10-litre backpack offers strength and resilience while remaining lightweight, plus super-soft, spaced-out padding provides back ventilation to keep you cool. Remember, your new routine will be thirsty work, so staying hydrated is a must. Good thing this ingenious essential is designed with a pocket for your water pack; ideal for easy, handsfree H2O.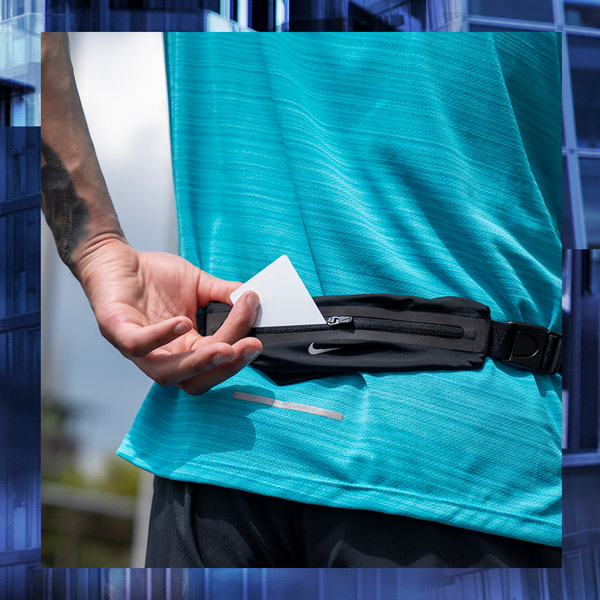 For truly hands-free running, check out our Nike Slim 3.0 Waistpack is the perfect accessory for carrying small items on your run. With its slim, lightweight design and stretchy, adjustable belt, this waistpack is made to move with you in comfort. The pocket is expandable to fit your small essentials for distraction free storage!
A REAL KICK START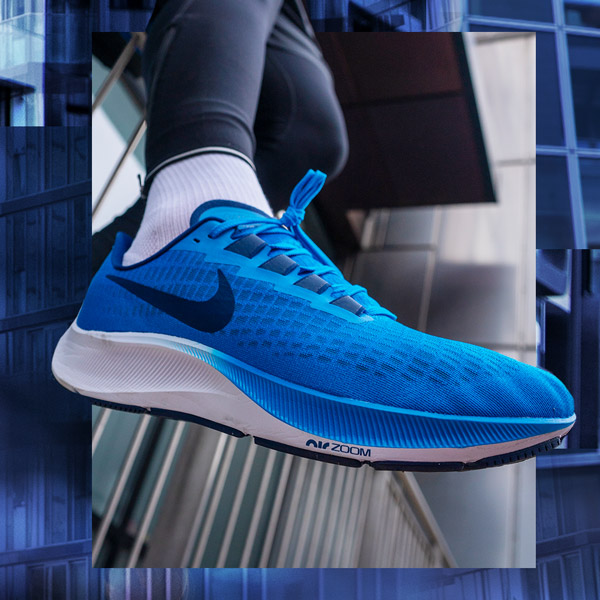 You don't need to be a pro to know that going the distance requires comfy, performance-focused running shoes that support you every step of the way. Therefore, choose a reliable style that can live up to your twice-daily routine and won't hold you back. Nike's latest take on the iconic Pegasus not only look the part, they play it too. Yep, the Nike Air Zoom Pegasus 37 gives maximum cushioning, responsiveness and some serious bounce thanks to Nike React foam and an all-new forefoot Air Zoom unit in the sole. In addition, you can rest assured there won't be any slip-ups thanks to data-influenced traction inspired by hundreds of runners. Clever indeed…
#OOTD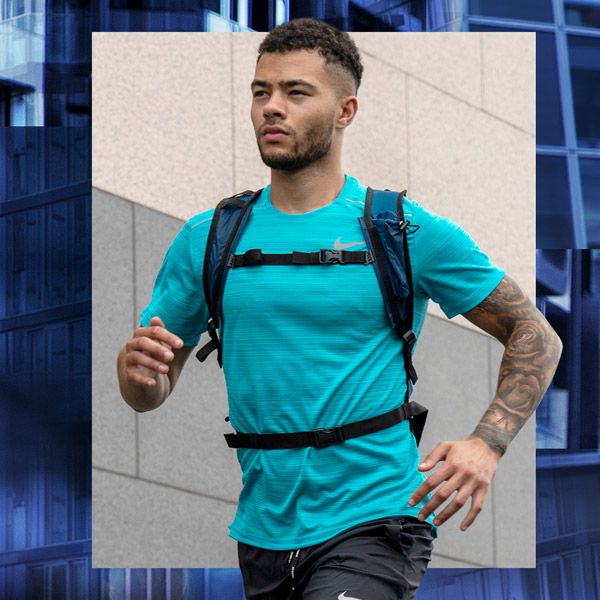 Wondering what to throw on before you jog on? Those sofa-loving sweatpants and any old tee might be a tempting combo, but we suggest stepping up your style to really make the most of your new commute. For instance, look to high-tech, high-comfort staples that will ensure you're cool and content, pace after pace. Sweat-wicking fabrics are designed to draw moisture away from the body-in other words: they leave you cool, dry and comfortable. In addition, finer details like flat stitching create a smooth finish that won't rub as you run. When we say technology to run, we mean real technology!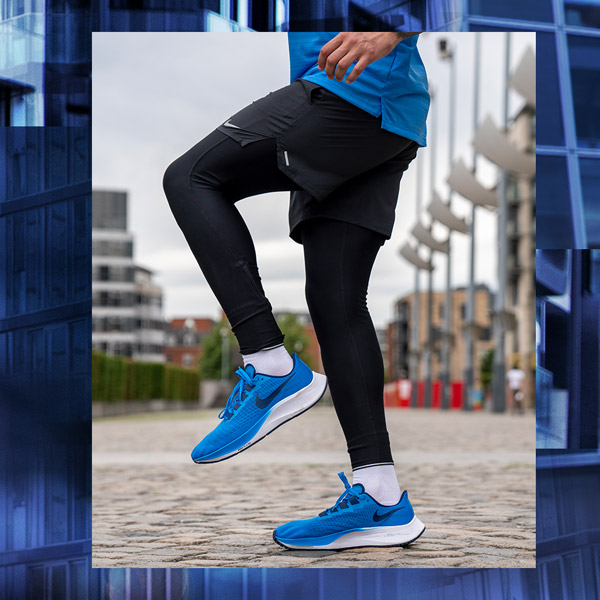 "Try to avoid cotton, as it absorbs moisture and will dampen your body as well as your mood." – Caoimhe, Head of Mens and Concept Manager
What to lookout for:
Moisture-wicking or sweat-wicking styles
Reflective details for low-light running
Smooth finishes with flat stitching
Secure pockets for those on-hand essentials
Drawcord and elastic waistbands that won't budge
Ventilation and breathability
ALL THE SMALL THINGS
The little things count. In sport, in life… mid run. Whether it's an easy-grip water bottle or a phone-friendly armband, there are a few finishing touches every runner needs on their kit list.  Nike's Multiplier Crew Socks, are one – or two – of them. Firstly, crafted with a mid-foot arch band for a close, comfortable fit and secondly, finished in a breathable, sweat-wicking fabric. In conclusion? They're the socks to slip on before setting off.
And when it's sunny outside? Under Armour's Men's Airvent Cap will shield you from the glare, all while keeping you cool. Its fast-drying  ArmourVent™ Technology creates a light, breathable fitness classic that's durable too, with a visor designed to maintain its shape, time after time. Similarly, Under Armour offer the same Technology to Run across their range of performance caps, in addition to being a cool staple in your every-day wardrobe!
running quick shop
YOUR LIFE, YOUR STYLE, YOUR SPORTS