We're proud to announce that Stephanie Roche is our latest Boot Room brand ambassador.
Meet international football player Stephanie Roche, our latest Boot Room brand ambassador! Roche joins Munster Rugby and Ireland International Andrew Conway as part of the Life Style Sports ambassador set. It's a privilege to work with such incredible Irish talent, and we're thrilled to have her onboard.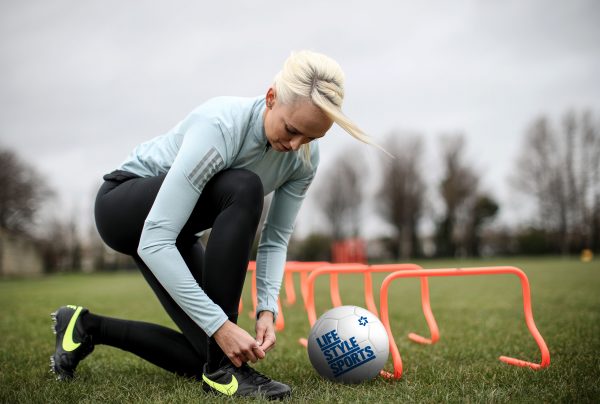 Roche has made 50 senior international appearances for Ireland, scoring 7 goals. Stephanie became a household name back in 2013 when her goal for Peamount United against Wexford Youths went viral. A massive milestone in her career, this achievement brought her international attention. This outstanding goal earned Roche a place in the final 3 nominees for the FIFA Puskás Award in 2014, which made her the first female to rank amongst the finalists. Roche singed with Italian Serie A club C.F. Forentia in November of last year. What an accomplishment!
I am excited to come on board as a brand ambassador with Life Style Sports. I am proud to be working with a 100% proudly Irish owned brand and I look forward to collaborating with Life Style Sports and sharing my story with supporters. – Stephanie Roche  
Stephanie grew up in Ireland living and breathing football. Her dad was a football coach, and she used to play on all-boys teams as a kid. She's thrilled that girls football teams are on the rise so they have the opportunity to play with their peers. Learn more about Stephanie Roche's incredible story in the video below:
Keep an eye out for more videos and exclusive content on our Instagram @LifeStyleSportsFootball