Scoring tries in Munster red has never been an issue for Simon Zebo, but the full-back insists the Red Army need to be more ruthless in attack if they are going to mount a Guinness PRO14 title challenge this season.
Munster reached the semi-final stage in the league and the Champions Cup last year, but they are refusing to rest on their laurels as they look to go even better this season.
They open up against Benetton Treviso in a new-look league, which has been split into two pools of seven teams now that South African sides Cheetahs and Southern Kings have joined.
And Zebo expects a much tougher competition this time around, but has a plan in how to catapult Munster to the very top.
"I think our attack needs to improve a little bit, last year there was a big focus on our defence and I think we actually had one of the best defences in Europe," he said.
"It was vital to our success, but if we want to move to the next level then our attack needs to move forward.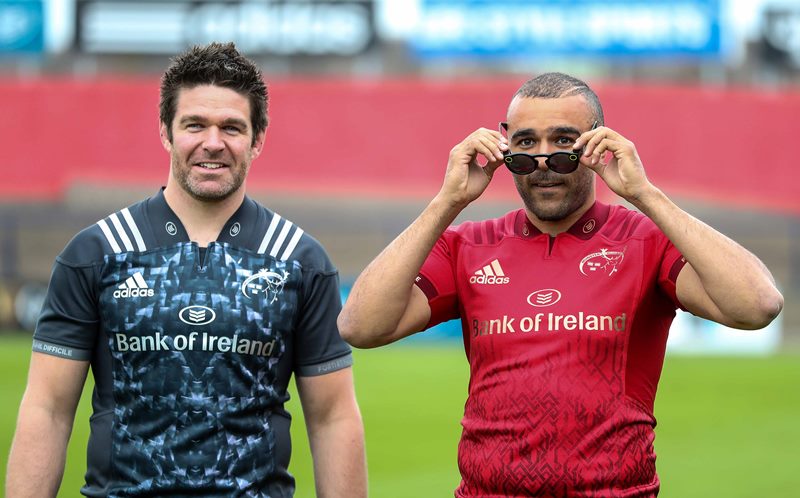 "It is great being back involved now, and every player is buzzing. There is a great atmosphere in the squad and everyone is excited.
"I know the foundations are there but now we just need to focus on our attack and put away some scores we were not doing last year.
"That will win us trophies. As a winger, the pressure is on me to put a few of those away. It can be a little bit frustrating when the ball does not come our way, so we need to focus our mind-set to move the ball wider and be a little bit more brave.
"I have been very impressed with all the new guys, but Chris Farrell and James Hart have stood out. The input they have given, their work ethic and their skillset fits into the Munster culture really well.
"They will be two very exciting players for us and I can't wait to get out there with them."
One of the most exciting parts of any pre-season is the launch of a team's new jerseys, and Munster will sport a sharp range this season.
The Cork-based side have gone for a black and grey away jersey with an eye-catching pattern, while their bright orange training jersey certainly makes them stand out.
SQUAD UPDATE: Zebo & Hanrahan step up preseason involvement, O'Mahony returns to provincial fold | https://t.co/kd8AZE2BUS pic.twitter.com/6Qgpa960gW

— Munster Rugby (@Munsterrugby) August 14, 2017
But it is their home jersey which has caught the most attention, and with their traditional red colour mixed with gold trim and deeper shades of red to finish it is one of the best in the division.
Zebo added: "I am really looking forward to wearing the shirt, I really like it. I am sure it will look good on me with my skin tone!
"It is really good though, when a new jersey comes out there is always an extra buzz around the place and I can't wait to get it on.
"Whenever the new stuff comes out, it is a big event for everyone – especially the fans. The feedback we have is that it looks sharp so we are happy.
"I quite like the training jersey too, although it is up for debate! They're very good to us and I am looking well – so as long as I do I don't care about the other boys!"