Week in week out Seamus Coleman is fighting it out against the toughest opponents in the world but with his Nike Tiempo boots he and Everton are determined to push for Europe.
After a lightning start to the Premier League, where Everton won four and drew one of their first five games, Coleman and his team have struggled for consistency.
Despite this, they are eighth in the league as they look to close the gap to the top five of Spurs, Arsenal, Man City, Liverpool and Chelsea.
His Nike Tiempo football boots are designed to deliver unrivalled stability and comfort on the pitch, important for Coleman in the cut and thrust of regular league and cup fixtures.
They feature full Kanga-lite uppers with premium kangaroo leather to provide improved ball control, while the Hypershield outerlayer resists moisture better.
Ireland international Coleman has been racing up and down Everton's right flank in Tiempos for five seasons and states the comfort of the boots are a major factor behind his decision to wear them.
"They are very comfortable boots, I like the style and I've done well so I'm very happy to wear them," he said.
"They're very tight, comfortable and they fit me well when playing. When I take a shot or cross I feel comfortable and I really like wearing them.
"I like the look of them and how often the style changes as well. As footballers we get bored and like to change our boots.
"They always seem to be good, I really like the new ones, they've gone black, and I look forward to wearing them both for my club and country."
Coleman joined Everton from Sligo Rovers back in 2009 and has gone on to make 189 appearances for the Goodison Park club, scoring 17 goals.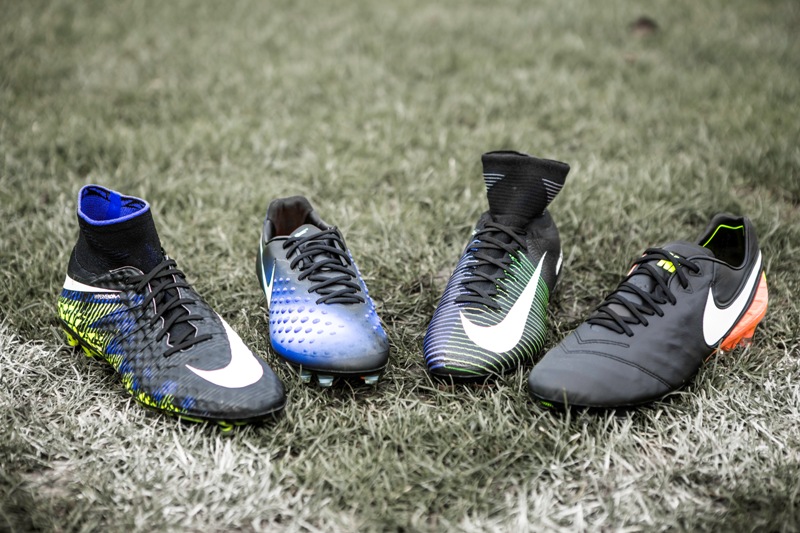 And while his Everton and international career continues to go from strength to strength so does the right-back's relationship with his Nike Tiempos.
"As long as Nike is comfortable with me wearing them then I'll carry on," he added.
"In training I wear moulds as I don't want to be going around kicking anyone in training with studs or anything like that.
"On match day, I wear studs just in case. As a defender I don't want to be slipping. When the time comes I want to make sure I'm there and don't fall over so studs are good for that.
"It's important to know what you're wearing. I know I change between moulds and boots but it's important to get a feel of the boot.
"I think I have kept a few from the Euros but I tend to like that if I score with a pair I wear them again. I'm very superstitious so I tend to do stuff like that, as are most footballers."
THE NIKE DARK LIGHTNING FOOTBALL BOOT PACK IS AVAILABLE ONLINE AND IN STORE NOW. CHOOSE FROM THE NIKE TIEMPO, MERCURIAL, HYPERVENOM AND MAGISTA. ELECTRIFY THE PITCH.