Want to really stand out in school this year? Personalised school bags are the way to go!
This year we're helping you go back to school in style with customised school bags. Nothing makes a bag truly yours more than adding your name or a short message. Check it out!
How does it work?
Almost all of our range of backpacks can be personalised with your name, a word or a short message. When personalising a bag, we offer a maximum of 8 characters, including spaces and special characters like hashtags. The font is Arial style, and the height of the font on the bag is 7 mm. Personalising your bag will only set you back €5 (or £4 in UK).
Take a look below at a snapshot of the feature live on our site where you can input the message you wish and the thread colour (a finer detail that can't be missed):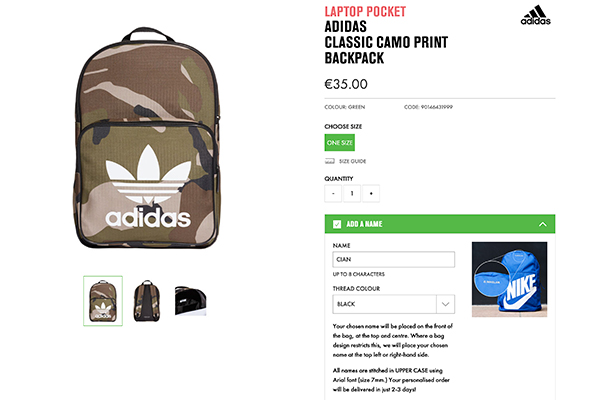 The personalised feature is placed on the top front of the school bag. If there is a logo, patch or design element in that place, we will put it to the left or the right of that – wherever it fits best. If there's a pocket, the text will be sewn on the outside panel. Rest assured, we make sure we don't sew any pockets together!
If you're not sold already or unsure about bag personalisation, watch our video below to see the the personalisation process in action:
When will I get it?
When you order a personalised bag, eagerness to see the finished product can be relentless, so your  personalised school bag will arrive in 1-3 business days, just in time to start the school year off with style.
Unfortunately there are no returns or exchanges due to the personalisation being irreversible but who wouldn't want to keep this extra bit of style anyway?
Personalise your School Bag online now to make your first day your best one yet.