Between the 1995-96 and 2003-04 seasons only two teams won the Premier League – Arsenal three times and Manchester United six.
Unsurprisingly then these two clubs did not see eye to eye and the rivalry between them soon became one of the major talking points in every season.
The battle for centre midfield supremacy between the fierce competitors of Roy Keane and Patrick Viera was often the starting point with neither man taking a backward step.
Viera is joint top of the Premier League red card list with eight while Keane picked up seven in his career in England's top flight.
Some #MondayMotivation ahead of Saturday's meeting with Arsenal… pic.twitter.com/N0ITFgq1d3

— Manchester United (@ManUtd) November 14, 2016
But there were also tasty tackles flying in from the likes of Martin Keown and Gary Neville with Ruud van Nistelrooy often the centre of Arsenal fans' displeasure.
And with the two teams set to meet at Old Trafford on Saturday lunchtime, who might be best placed from each side to give the referee another busy afternoon?
Marouane Fellaini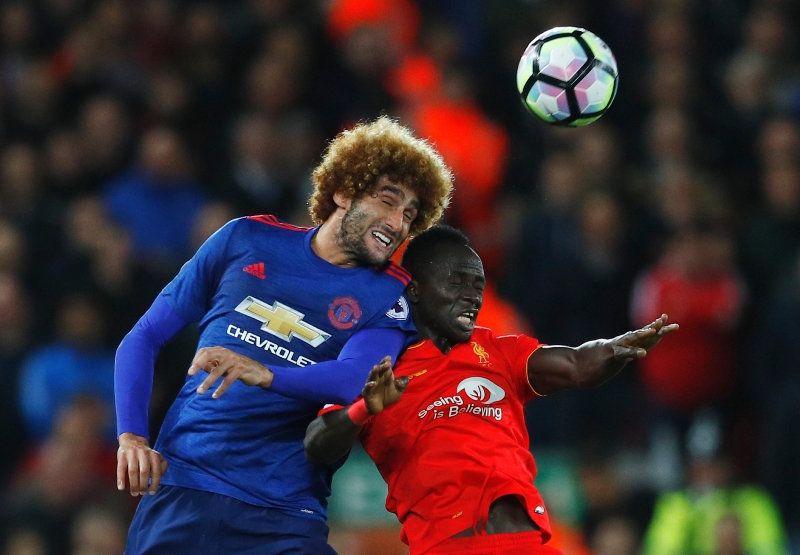 The 28-year-old Belgian midfielder isn't the most popular man amongst his own set of supporters but can rile up visiting spectators and players just as easily.
He's picked up four yellow cards in just eight starts for Manchester United this season as well as two in as many games in World Cup qualifiers for his country.
His height and heading ability made him a popular man at Everton but he is often criticised for having high elbows when he challenges for the ball in the air.
Catching an Arsenal player on Saturday could be the spark that sets this fixture alight and get the fire burning in the bellies of his fellow Manchester United teammates.
Francis Coquelin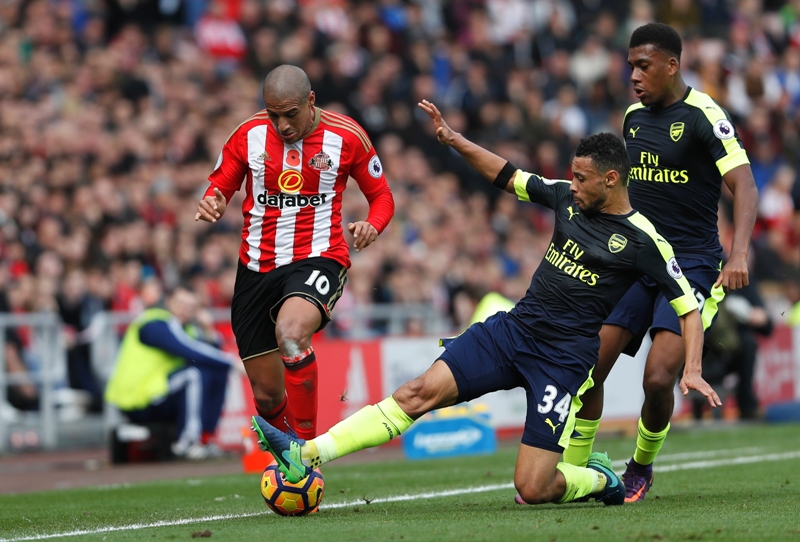 The closest thing that Arsenal have had to a midfield enforcer since the glory days of Patrick Viera and Emmanuel Petit, Coquelin is no stranger to a strong tackle.
His defensive mantra has seen him pick up two yellow cards in the Premier League so far this season and another two in his three Champions League games.
Not much longer to go until we're back in action…#MUFCvAFC pic.twitter.com/QLTMCY6J5l

— Arsenal FC (@Arsenal) November 15, 2016
But Coquelin has helped Arsenal to third in the Premier League table only two points of leaders Liverpool while Jose Mourinho hasn't enjoyed the easiest start at Manchester United.
The Red Devils are sixth in the league but defeat at Old Trafford on Saturday would leave them nine points behind Coquelin's Arsenal side after just 12 games.
The Premier League returns and with Arsenal and Manchester United kicking things off on Saturday, it should be back with a bang.
SUPPORT 'THE RED DEVILS' WITH THE NEW MANCHESTER JERSEY OR GET BEHIND 'THE GOONERS' WITH THE LATEST ARSENAL JERSEY. BOTH AVAILABLE ONLINE WITH LIFE STYLE SPORTS.