At Life Style Sports, we're all about size inclusivity, and that's why our activewear range runs to a size 4X ⁠— a UK 34 to anyone not in the know. We believe you should feel and look confident while you work out. Discover super-supportive sports bras, lounge-ready separates and more, all created by the iconic brands you know and love like Nike, adidas and Under Armour.
Activewear is perfect for workouts and can also be worn on those days when you just want to feel comfortable. And, before you ask, this isn't just about sizing up – there's loads more thought and detail that goes into Plus Size pieces.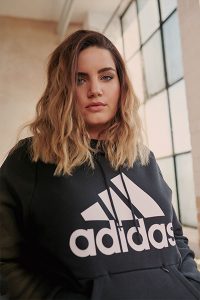 What should I look out for?
We've compiled the key things you should consider while shopping Plus Size activewear so you're supported and comfortable — whether you're hitting the gym or rocking an athleisure look at Brunch.
Support
Make sure your activewear fits well and isn't too tight or loose. Stick with comfortable, buttery-soft materials that don't restrict your movement. And for extra peace of mind, high-opaque finishes remove those pesky sheer moments — no VPL here!
Four-Way Stretch Fabric
Make sure you go for activewear with plenty of added stretch so that it can move and support you no matter what activity you undertake. The fabric should be able to stretch and support in all directions — that's why it's called four-way stretch.
Sweat-Wicking
Activewear should be made from sweat-wicking fabric to keep you cool and dry during your workouts. It expels it to the surface, allowing it to evaporate quickly — keeping you feeling light and cool for longer. Details like mesh panels and cropped lengths will also help regulate your temperature.
Our top picks
Shop The Bra
Shop The Leggings
Shop The T-Shirt
Shop The Layer