Could the latest release of the Nike CR7 Superfly be the best edition yet? Check out the latest review from footballboots.co.uk to find out!
You can't judge a book by its cover, but the new CR7 looks just as great as it performs. These boots are mainly white and black to keep it mostly neutral, while subtle flashy details make it stand out on the pitch. The multi-coloured Flyknit is something Nike hasn't done before, but we hope to see it more as it looks phenomenal. The Nike Skin at the toe has a glittery effect like the rare gold Superfly 4's, and the unique shattered glass effect gives a really eye catching finish.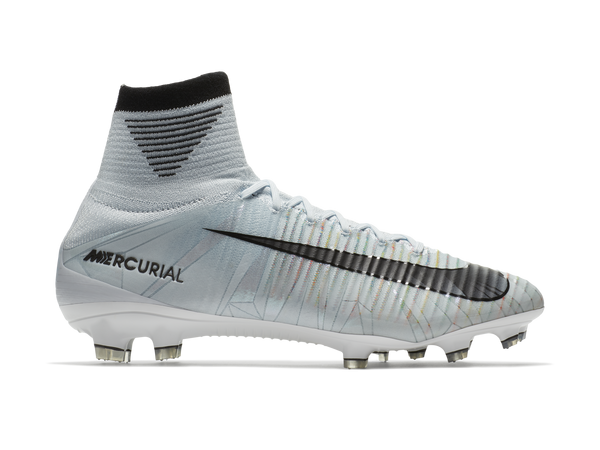 These CR7s have a flexible Flyknit upper for a very snug, sock like fit. The Flyknit extends to the Dynamic Fit Collar to give a heightened sensation of the boot as an extension of the foot. These Superfly boots are all about performance, and the supportive Flywire cables on each side of the laces epitomize this. Nike have also given this edition their trademark Nike Skin layer for stability, along with a grippy texture to enhance ball control.
Final thoughts? These Superfly boots are all about optimizing performance on the pitch. The sole plate is on point with chevron shaped studs, one of the best configurations you can have in a firm ground boot. It also has a unique contoured layer chassis, not commonly found in similar football boots. The fit is slightly narrow, but overall they're true to size. Top top it all off, the sensational look and premium materials make this edition one of the best Superfly football boots ever made.