Next Day Delivery is now available for orders placed before 10PM!
You heard right! Our Next Day Delivery cut-off has been extended to 10PM for online purchases made in the Republic of Ireland and Northern Ireland. That means you have more time after work or school to place your order and get it the next day. There's no such thing as last minute anymore, we've got you covered!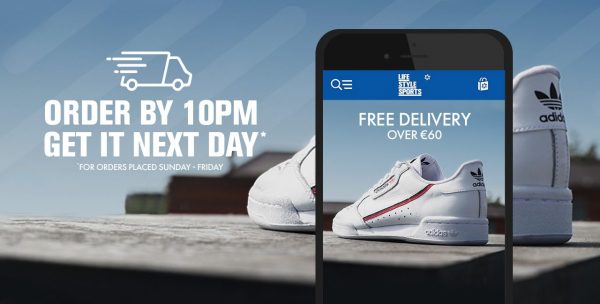 WHEN DO YOU DELIVER?
We deliver to the Republic of Ireland and Northern Ireland 6 days a week, this excludes Bank Holidays. Just place your order before 10pm the day before.
HOW MUCH DOES NEXT DAY DELIVERY COST?
Next Day Delivery Delivery to anywhere in Ireland or Northern Ireland is free when you spend over €70 and costs just €5 if you spend less. Next Day Delivery to any Life Style Sports store is FREE for all orders.
Next Day Delivery to anywhere in the UK is FREE when you spend over £75 and costs just £5 if you spend less.
WHERE CAN I SEND MY ORDER?
We can send your order to your home, work address or your preferred Life Style Sports store. If you'd like to have your order sent to a store, select Deliver to a Life Style Sports Store during checkout. Choose your preferred store from the drop-down list and complete your order. When your order arrives, we'll send you a text and an email letting you know that it's ready for collection.
WHAT ABOUT THE UK?
If you are in England, Scotland or Wales, you can receive Next Day Delivery. Because we need to get your order over the Irish Sea, you'll need to order by 1pm. That's still pretty quick though!
WHAT ABOUT PERSONALISED ITEMS?
If you order a personalised item with your name on it, like football boots or football jerseys, it will take a little longer to get to you. Please allow up to 3 days for us to make and deliver your order.
YOU CAN FIND OUT MORE ABOUT OUR DELIVERY OPTIONS ONLINE, YOU CAN CONTACT US DIRECTLY WITH ANY QUESTIONS!