Connacht, Munster, Leinster and Ulster Christmas gifts now available to supporters all over the world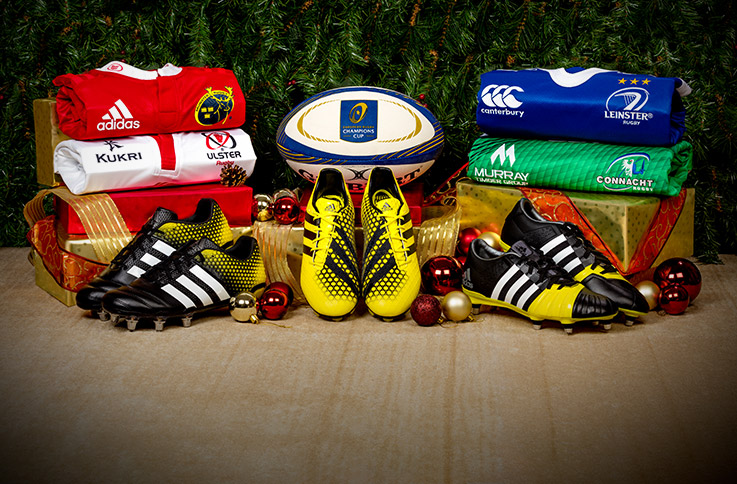 Life Style Sports, Ireland's number one destination for rugby has launched its international online delivery service that will send replica rugby jerseys, training wear, associated apparel, boots, equipment and merchandise to the four corners of the earth, making it the perfect destination to tick off that Christmas list for friends and family living abroad.
Whether they are Ireland, Connacht, Leinster, Munster or Ulster fans you can now choose from Ireland's biggest selection of jerseys, fan wear and supporters merchandise at Life Style Sports this Christmas. The range of club merchandise is perfect for the sporty son, number one nephew or the super sister so they too can show their support for their favourite rugby team even though they may be thousands of miles away.  As the official retail partner to Leinster, Munster and Connacht Rugby, Life Style Sports is offering season ticket holders a 10% discount off ALL purchases (not just rugby related) as a Christmas treat!
Now delivering to 220 countries worldwide, Life Style Sports is calling on rugby supporters with friends and family living abroad to tell them why their friend or relative is the perfect ambassador for their province. They want to hear the great stories and extraordinary lengths that these intrepid Munster, Connacht and Leinster Rugby fans will go to in order to support their beloved team and be a part of the exciting action despite the fact that they could be playing in the middle of the night in certain parts of the world.
The ten most worthy ex-pats from Connacht, Leinster and Munster Rugby will be amongst the first to avail of the international delivery service and will receive a brand new jersey with a very special personalised Christmas message from the rugby stars they support on the field
Speaking about the launch Debbie Byrne, Marketing Director at Life Style Sports commented:
"As rugby continues to expand its foothold across the globe so too does the support for Connacht, Leinster and Munster Rugby. Fans looking to show their true colours no matter where in the world they are can now do so by using our international delivery service on www.LifeStyleSports.com."
To make the perfect Christmas gift for your friends and family who won't make it home this Christmas, be sure to place your international orders by December 14th with European delivery charges starting at €9.99 and North American from only €14.99. Christmas gifts for fans living in the UK can be ordered up until 18th December with delivery charges commencing from GBP £5.00.
For more information on the Life Style Sports international online delivery service or to take part in the competition to win a special package for a friend or family member living abroad, please click on the links below.