IF THE SHOE FITS: FIND YOUR SOLE MATE
Every wardrobe needs a faithful pair of trainers, but how do you find 'the one'? Whether you're a creative spirit or a classic minimalist, read on to browse our footwear picks by persona.
THE CLEAN-CUT CONNOISSEUR
If you find yourself throwing on an easy t-shirt dress, simple separates or reaching for minimal prints like spots and stripes, then you're the kinda girl who keeps her kicks classic. We're talking Stan Smiths and court-ready Air Force 1s; the clean-cut creps you can rely on, season after season. A firm favourite of Rosie Huntington-Whiteley and Hailey Bieber, this bright white style works with everything in your wardrobe, bringing a chilled vibe to classic dresses, sporty co-ords and more. Sure, you like colour, but you prefer a practical, pristine palette that you can chuck on and go…
Are you a clean-cut connoisseur?
Likes: A nude mani-pedi
Loves: The first coffee of the day
Loathes: Neon. No thanks…
Your Perfect Pair: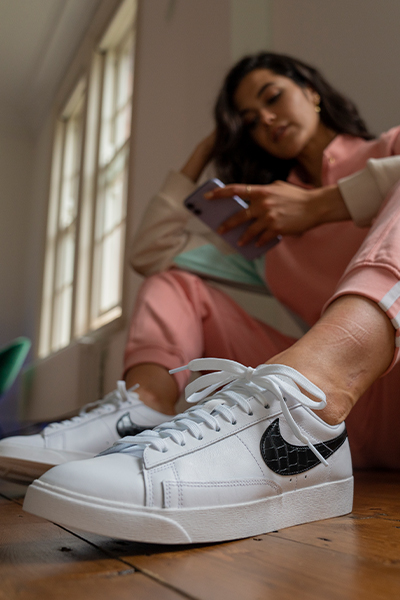 THE NEW OLD-SCHOOLER
You're the first to know the Electric Picnic line up, and you'll be the first through the festival gates too. When you're not rocking your fave mom jeans, you're working an on-trend boilersuit or slouchy dungarees – vintage, of course. You have a style soft-spot for likeminded, indie-loving influencers and A-listers; those famous faces you'll see singing their hearts out at Glasto – think Alexa Chung and Kaia Gerber. A retro high top is always welcome, like the iconic Allstar or Blazer, whether you're out with the girls or grabbing a frappe.
Are you a new old-schooler?
Likes: That trusty check shirt you've had for years
Loves: Festival season
Loathes: Bling
Your Perfect Pair: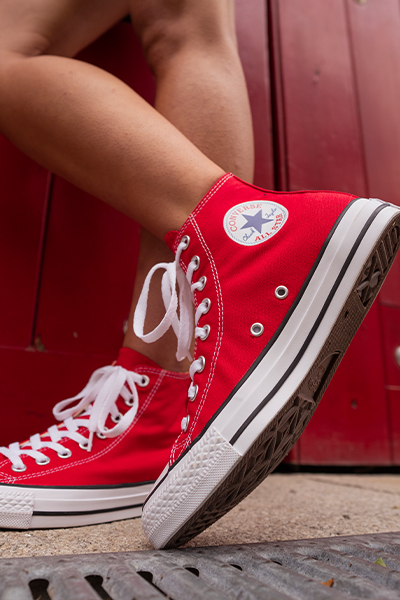 THE FEMININE FREESPIRIT
Nothing quite beats catching up with your closest pals and discussing the latest Love Island, all while planning your own upcoming getaway. You're partial to pastel shades and feminine, floral prints, but you always add oversized denim or fashion-forward tailoring for an edgy, everyday twist. If you were a trainer, you'd be a stand-out take on a classic style: the Air Force 1 Shadow or Allstar Lift Ox – eye-catching flatforms that add a little height and a lot of style to every outfit. Make like Bella Hadid in our platform picks.
Are you a feminine freespirit?
Likes: Fresh peonies
Loves: A leisurely prosecco brunch
Loathes: Grey, drizzly days
Your Perfect Pair: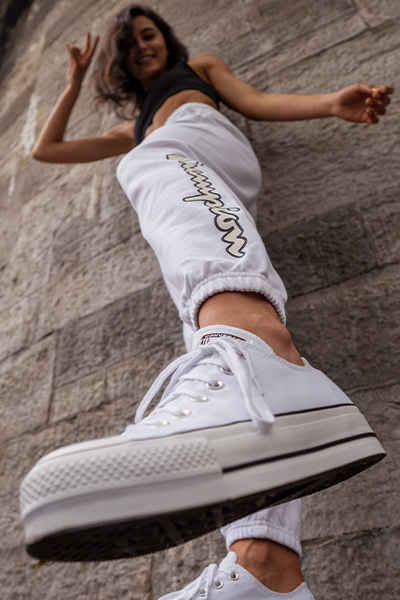 THE FASHIONABLY FIERCE
You're cool, confident and believe in being bold in all that you do, whether that's pushing to beat your personal best or going above and beyond to brighten everyone's mood. The girls call you the 'rebel', because you love staying out until the sun comes up and wearing the loudest prints and punchiest pops of colour. And you wouldn't have it any other way – just like Dua Lipa, Mabel and Alani Figueroa of @wuzg00d. Streetwear? More like loving-lifewear. Pass the Air Max…
Are you fashionably fierce?
Likes: The Noughties
Loves: Updating your trainer collection
Loathes: Beige
Your Perfect Pair: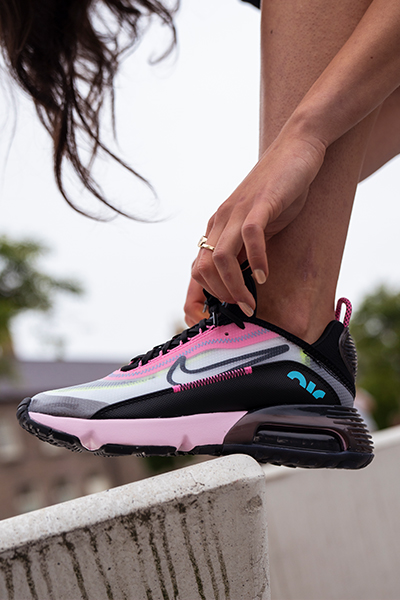 THE MODERN MULTITASKER
Yes, you're a dreamer, but like Kate Bosworth and Kylie Jenner, you're a woman of many talents – a creative-thinker with big plans and an even bigger heart. If we peeked inside your wardrobe, we'd spot LBDs, quirky co-ords and hardworking staples that can be easily styled to suit your non-stop schedule. You love to add a sports-luxe touch with the latest runners – the brighter, the better – and the head-turning React Vision and vintage-inspired Daybreaks are at the top of your wish list.
Are you a modern multitasker?
Likes: Taking care of business
Loves: Roaming art galleries
Loathes: Bland boardrooms
Your Perfect Pair: