This is Wanderlust: Dawn to Dusk.
Women's Studio's latest curated campaign, Dawn to Dusk has taken inspiration from the love of getting up to late night mischief to those bleary-eyed early morning workouts. A hand-picked collection to take you from Sunrise, all the way to glowing Sunset. A palette rich in earthy tones to mirror the natural resplendent desert contrasts beautifully with this strong, confident collection from Women's Studio. This collection captures our strong, inspirational aesthetic with the best from both fashion and performance. With carefully curated footwear and apparel from top brands like Nike, Adidas, Under Armour and Puma- this collection will take you from sleepy Dawns to well after Dusk.
This collection is made for all the Night Owls, the Early Risers, the Do-ers, the Inspirational, the Fearless.
Confidence comes from within, but a banging outfit certainly helps.
DESERT ROSE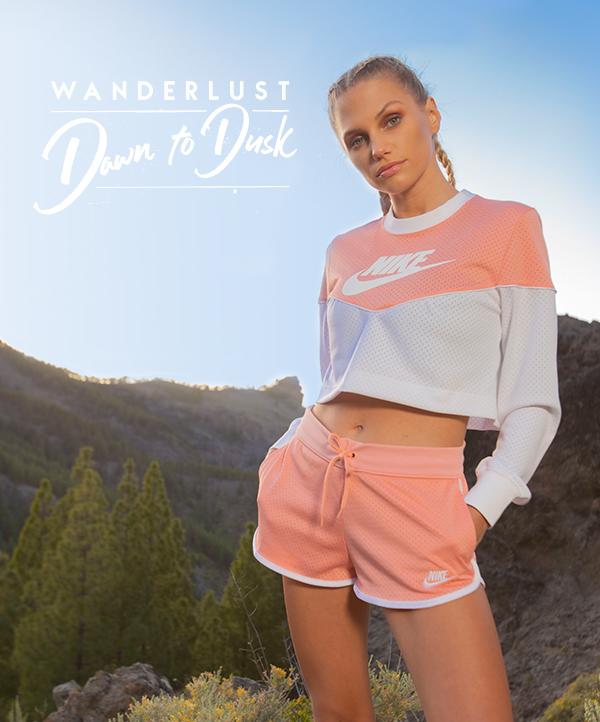 This dusty-rose outfit from fashion and performance giant Nike, perfectly encapsulates the natural aesthetic of the Dawn to Dusk Campaign. This co-ord is made from soft, breathable fabric to keep you cool and comfortable. Shop our Women's Cropped T-Shirt and matching Women's Heritage Shorts. Don't forget to finish this look with a serious pair of Kicks.
TRUE BLUE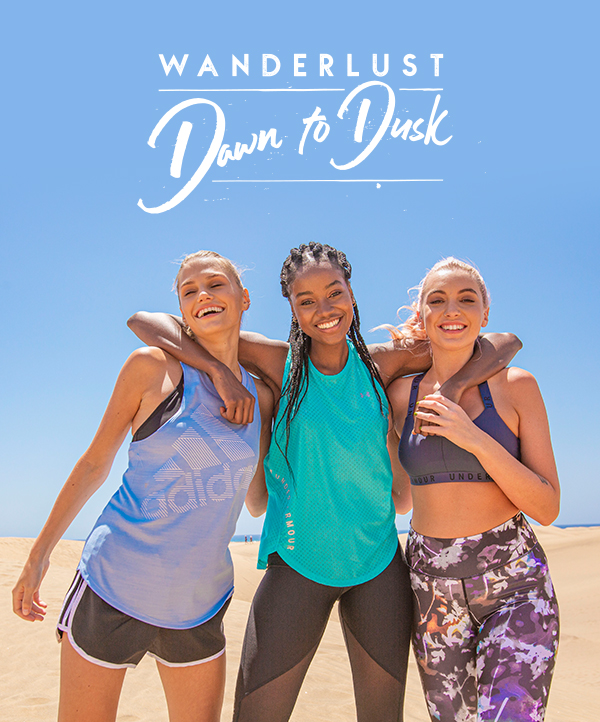 Do you even lift? Whether you're into cardio or yoga, pilates or boxing- we have the best performance gear to suit your needs.  With technologically superior materials to wick sweat away from your body to those helpful hidden pockets to keeps your bits and bobs safe, we have it all. Not sure what footwear suits your needs? We have everything from weightlifting, training and running footwear-shop it here. We've done the hard work for you, shop all our Training Gear here, or swing over to all our Running Gear here.
DESERT BABE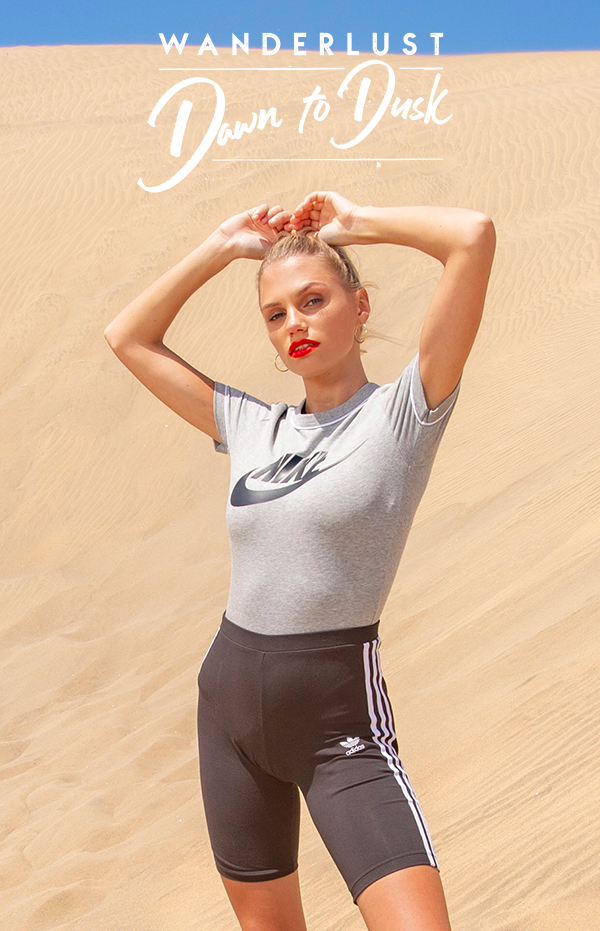 This fun and flirty sport-inspired fashion look is the perfect outfit to bring you from Dawn to Dusk. This fitted Nike Heritage Bodysuit has a delicate crew neck with cap sleeves with a popper fastening at the bottom. Add a cute pair of Adidas Cycling Shorts or for an off-duty chic look, pair with a structured skirt or fitted jeans. Not sure what trainers go? Shop our Fashion Trainers here.
RUN FOR IT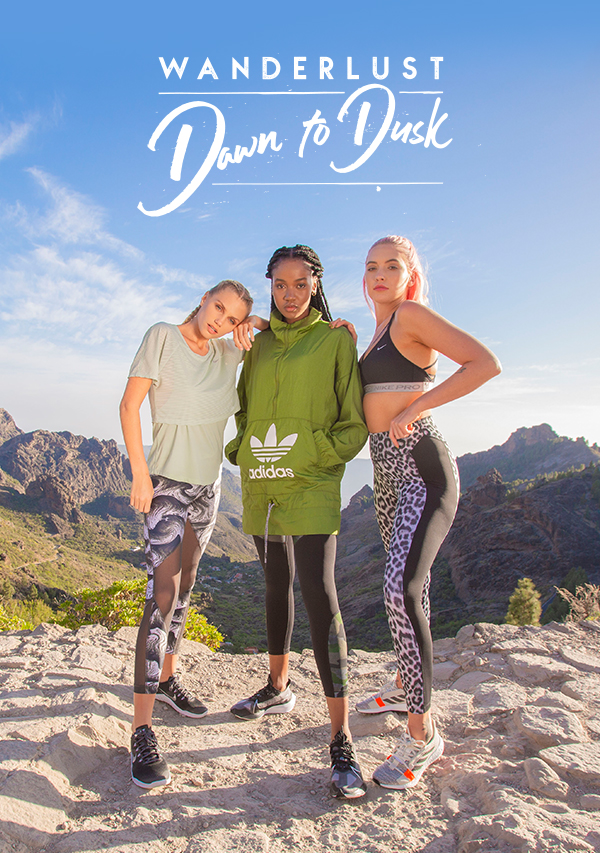 Take your pick of the litter with this trip of performance looks from Women's Studio. With brands from sports-wear giants, Under Armour, Adidas, New Balance and Nike, you're guaranteed a hot look with all the performance technology you need. Not sure what leggings to wear? Find your perfect pair of Performance Leggings here. Top it off with this Head Office favourite; Adidas originals Windbreaker Parka. Lightweight, water-resistant and reminiscent of that old-school Adidas aesthetic. Perfect for festivals, gigs and chucking in your handbag for a rainy day!
PATTERN CLASH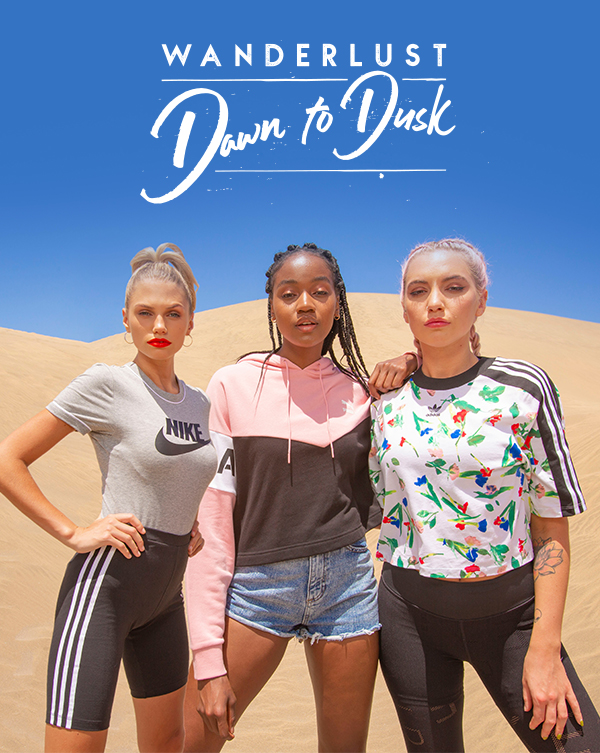 Fresh and fun. This collection encapsulates the energetic vibrancy of the Dawn to Dusk look. We love this super soft contrasting Cropped Hoodie from Puma. Adidas Originals takes a softer approach to womens wear with this floral cropped t-shirt adaption of the classic 3-Stripe. Shop the entire collection of floral freshness from Adidas in our Dawn to Dusk collection.
CAMO CONTRAST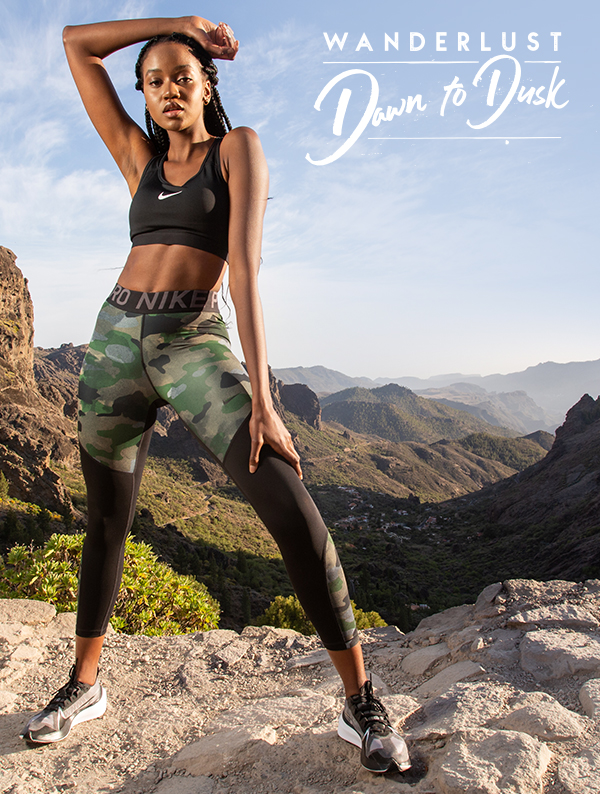 Get stealthy with this impactful performance look. Perfect to bring you through your gym sesh in style. These Nike Pro leggings are specifically engineered for tough work-outs in the gym with moisture-wicking fabric to keep you cool and dry. Pair with a contrasting Sports Bra for maximum impact. Don't forget the right footwear- these Nike Zoom Pegasus Turbo 2 are specifically designed for long-distance running and is a firm favourite in the office.
TWILIGHT ZONE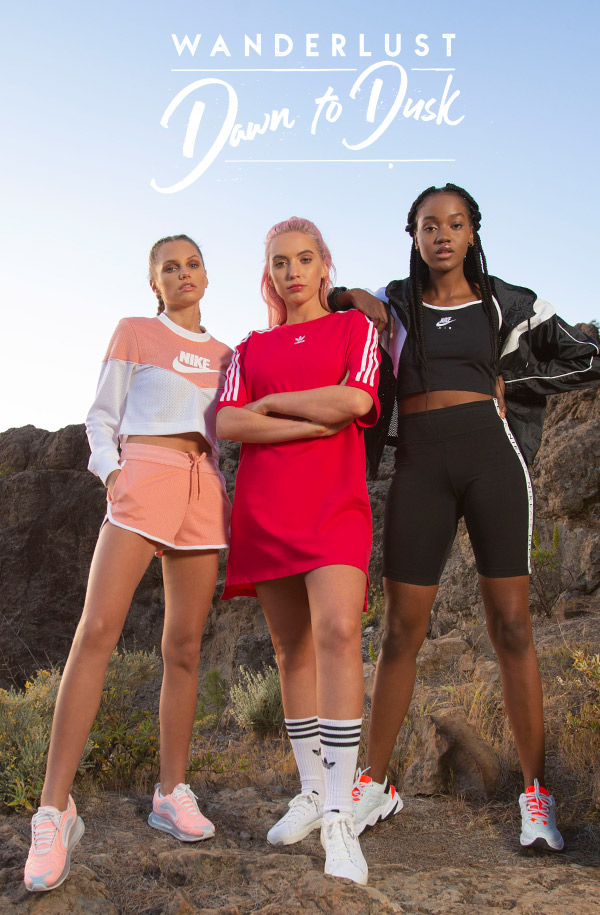 This trio of sport-inspired looks are vibrant and unapologetic. We love this bold, red T-shirt Dress from adidas Originals. A true classic with a drop-hem at the back of the dress and three stripes on the sleeves and heritage adidas trefoil on the chest. Top it off with a killer pair of trainers- shop them all here. Get inspired and see all these outfits from our Dawn to Dusk collection here.
Inspired? You should be!