CONNACHT RUGBY, IN PARTNERSHIP WITH LIFE STYLE SPORTS, TODAY REVEALED THE LIMITED EDITION GREEN LANTERN INSPIRED JERSEY THAT WILL BE WORN IN THIS WEEKEND'S PRO12 DERBY AGAINST MUNSTER.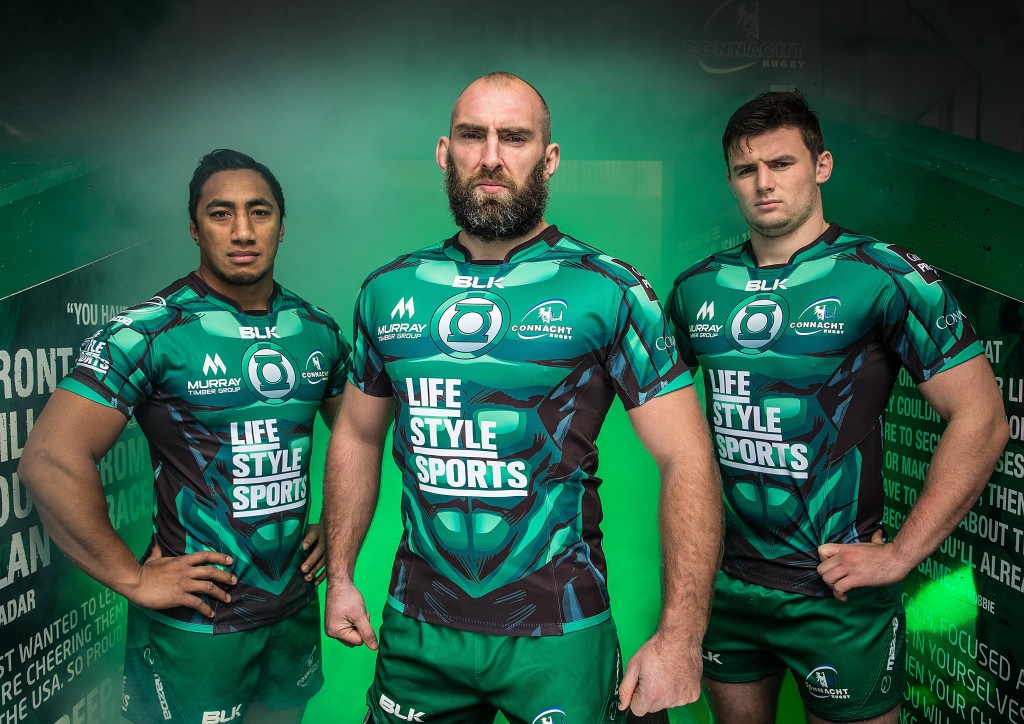 Today ,the players of Connacht Rugby finally got their hands on the new and limited edition Green Lantern inspired rugby jersey, available exclusively from Life Style Sports, official sponsor of Connacht Rugby.
Fans will be able to witness the Connacht rugby team channel their inner super heroes this weekend when they take to the pitch at Thomond Park to face Munster in their PRO12 fixture wearing the jersey for the very first time.
Since going on pre-sale on November 18th, the super hero jersey has become the best-selling rugby jersey for pre-orders from Life Style Sports.
The jersey is the result of a partnership between BLK, official kit supplier to Connacht Rugby, and DC Comics and is the fourth comic book hero inspired jersey from the manufacturer who recently launched Batman, Superman and Flash inspired jerseys for Ospreys, Melbourne Rebels and Queensland Reds.
The jersey captures all the fine details from the new character comic suit. The armoured design was specially designed to replicate the contoured panels and tailored cut of the BLK pro jersey to give the players an all empowering jersey to wear into battle.
With Christmas just around the corner, this limited edition Green Lantern Connacht jersey is the perfect gift for young Connacht fans wanting to become superheroes just like their Connacht idols.
Commenting at the official launch of the jersey, Debbie Byrne, Marketing Director at Life Style Sports said:
"We are very excited for the Connacht team to take to the pitch this weekend wearing the Green Lantern jersey for the very first time. These guys were always super heroes in our eyes and now they will really look the part in their Green Lantern themed jerseys."
Bruce Wood, Brand Manager at BLK Ireland said:
 "We're extremely excited to see the Green Lantern come to life for Connacht Rugby. The symbol of the Green Lantern light represents the power and energy that comes from the will of the people which is fitting for the 5 proud counties of Connacht."
 Connacht captain John Muldoon added:
 "We were all really impressed when we saw the Green Lantern jersey from BLK. It's something for our supporters to have some fun with it and I know there will be a lot of young fans out there who will be looking to get it on their Christmas list. As players, we're pretty excited about wearing it at the weekend too."
The Connacht Green Lantern jersey is available exclusively to Life Style Sports, in store and online.