'Mind the gap'. It's not just a London Underground instruction, but also a taunt commonly used by Arsenal fans as they laud their superiority over neighbours Tottenham.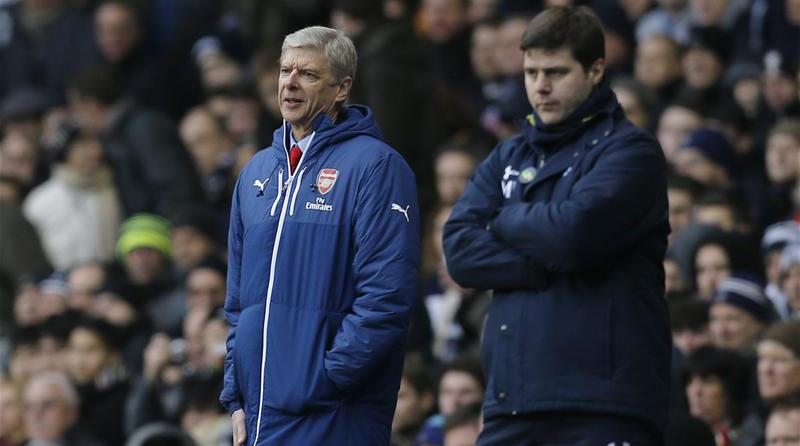 But on Saturday lunchtime it will be second-placed Spurs who will be going into a North London derby of monstrous significance one place and three points above the Gunners.
And there are more than just bragging rights at stake at White Hart Lane, where defeat for either side would be a significant blow to their very real title chances.
This is maybe one of the few where the title race is at stake, maybe the only one since I am here," said Arsenal boss Arsene Wenger.
Whether this is a frank admission or another Tottenham taunt, the Frenchman will need to take Spurs seriously as his side, who will be without Petr Cech and Laurent Koscielny, aim to avoid a fourth defeat in a row – something they haven't suffered since October 2002.
Their recent run of form has drawn angry responses from fans, but Wenger believes the Arsenal faithful will be fully behind him on at White Hart Lane on Saturday.
The Gunners have already been victorious here this season, beating Spurs 2-1 in the Capital One Cup back in September, and the manager knows full well a derby triumph will wash away all their recent woes.
He said: "This is one game where fans are always behind us, and it is down to us to give them more belief and make them more vocal.
Confidence has been a bit jaded. Always in football, we do 98 per cent of things right and need to find two per cent.
"That's down to our collective qualities and putting more effort in."
Meanwhile, despite defeat to West Ham on Wednesday, Tottenham boss Mauricio Pochettino is in a positive mood ahead of Saturday's crunch clash.
Tottenham have reached unparalleled Premier League heights this season and their high intensity style has won many admirers.
However, critics have suggested they lack the necessary experience to maintain their title challenge, and it is Arsenal who have the upper hand as they have been in this situation before.
Pochettino retorted: "If they have players that have the advantage to win the title, what happened against Manchester United or Swansea?
Sometimes we use a lot of topics in football. Football is simple, not too complicated.
"You have a lot of examples – different clubs sometimes sign a player or a manager with a big background or big trophies behind them. Sometimes success and sometimes not – you never know.
"Football is not an ordinary business, anything can happen."
LIFE STYLE SPORTS HAS THE WIDEST CHOICE OF ENGLISH PREMIER LEAGUE KIT AVAILABLE IN IRELAND. THE NEW RANGE OF PREMIER LEAGUE SHIRTS FOR THE 2015/16 SEASON IS NOW AVAILABLE TO PURCHASE IN-STORE AND ONLINE. CLICK HERE TO SHOP THE RANGE NOW.