We're thrilled to announce Andrew Conway as our new #LiveRugby brand ambassador!
Conway earned his 10th cap for Ireland against the USA, scoring an incredible hat-trick during his man of the match performance. Earlier this year, Conway was part of the Irish squad that achieved a series win against Australia, scoring an important try during the second test 26-21 victory in Melbourne. Capped 102 times for Munster Rugby since joining the province in 2013, the most memorable of Conway's 33 tries in a Munster jersey came in the 74th minute against Toulon in the quarter final of the European Champions Cup which helped earn Munster a 20-19 victory.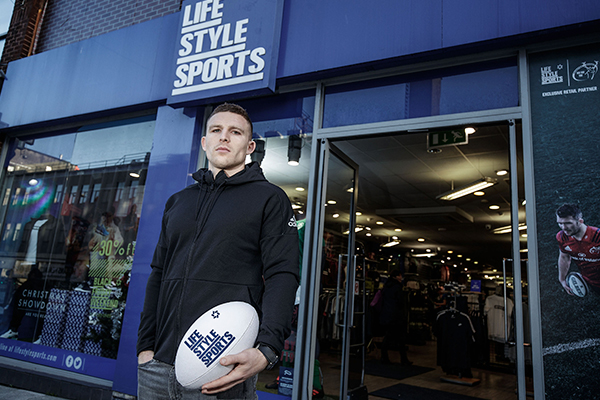 What does it mean for you to wear the Ireland Jersey?
Putting on the Ireland Jersey means everything to me. It's something I grew up dreaming of and for a long time it was out of distance for me. I was playing a lot of provincial rugby from an early age, but never made the cut to actually play for Ireland. I had to go back into myself and think of why, and really self-reflect. Through that I think a put a few blocks in place to up my performance, and so when I eventually got there it was really special. I was 25 and I'd been playing professional rugby since I was 18 or 19, so it was a long time coming. To be honest I wouldn't change a thing because it made it all the more special.
What is your favourite memory wearing the Ireland Jersey?
Some of my favourite memories in an Ireland Jersey are when singing the national anthem, it's pretty special. Whenever we're lining up we sing two songs, the opposition first in the Aviva, and then we have our two songs. You have a bit of time to look around and you see the families, your friends, and I always see Donncha O'Callaghan. It's probably five to seven minutes of taking in the atmosphere, enjoying the work you've done to get there, but also that last minute preparation before you go out.
How were the November Internationals?
Coming out of the November Internationals, it was an amazing month for everyone really. We were off in Chicago playing against Italy, then we came back and beat Argentina. Obviously the big one was beating New Zealand, which was incredible. I think the it shows how far this squad has come. Two years ago in Chicago is not now just a once off. I think in the last five or six years it's 2-2 between Ireland and New Zealand, every single one of those games is incredibly competitive. Finishing with the USA, it was a completely different team and a lot of us got an opportunity to finish on a high. Luckily we did that, we worked really hard all month and it was really a reward for putting in the work.
Are you looking forward to the Six Nations?
Looking ahead to Six Nations, I've kind of put that on the back burner for the moment. There's massive games with Munster coming up, and the best way to prepare for the Six Nations is to have it as a secondary thought. I know that it's there, but the primary focus is Munster. We've got big European games, then a big block of inter-pros, then back into Europe. Before you know it, if all that goes well, then you're in the shop window to be selected for Six Nations. For the moment, Six Nations is secondary. It's definitely a goal to be involved, but for now it's Munster.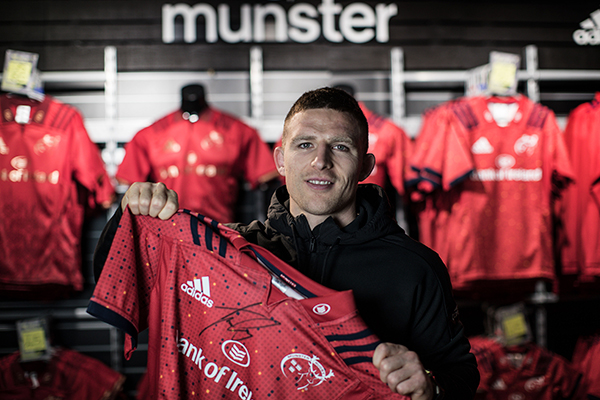 What was your favourite Memory wearing a Munster Jersey?
My favourite Memory in a Munster jersey is probably last year playing Toulon in the quarter final. I'd been out for a few weeks with an injury, and missed a lot of the Irish stuff over the Six Nations. They obviously won the grand slam and it was quite close to that, so it was pretty tough to watch. My first game back was Toulon and it ended up being a pretty special day for Munster and everyone involved. It was great to be involved and have an impact on the game.
Who is your favourite Munster Player?
My Favourite player to ever wear the Munster Jersey is probably Paul O'Connell. He's just that iconic figure. There's actually a photo that I've saved on my phone of Paul staring at Claremont. It's a European game but they're having a huddle and you can just see them, and Paul O'Connell is in the background looking like a psychopath and he's ready to take on the world. I had the honour of playing alongside him, which was a huge deal for me since I watched him growing up.
What was going through your head during the Try against Toulon?
Not too much to be honest with you, there was five minutes to go and I was very tired. I'd actually just gone out to the wing. I was playing fifteen because Simon Zebo went off, but one of the Toulon players hit me an absolute whack two or three minutes before. So I put Alex Wootton in to full back, and I was just hanging around there trying to catch my breath. The kick came out and was there going to touch, and luckily I was in the right position able to grab it over my head. In those situations you don't really think of anything, you just do what you do. Whatever presents itself in front of you, you have a crack at it. Thankfully it was one of those times where it paid off.
Would You Rather…